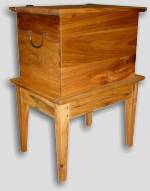 Hi, and welcome to Fourth Generation Furniture's homepage.

With experience gained from the first generation of the Delnero Furniture Company, and knowledge and workmanship learned up to the third generation, we would like to build you Fourth Generation furniture.

Here you can browse through our furniture gallery and get our contact information. We've also devoted a page for sharing with you our background, company's philosophy and good business values we employ.


One of which is allowing our customers to see their pieces being built from boards to furniture. So far we've done this with every project we've made and have put up slideshows of three of our past projects. Enjoy!

Well, thank you for visiting our site and we hope that you will enjoy your stay!

Justin Winters & Bobby Delnero