Wood: Butternut
*

Price: $1275
Features:
Handmade handles, re-forged hardware, moveable top, and built using past carpentry methods.
Finished with linseed oil to mirror the original piece.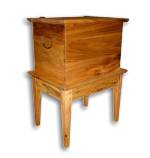 Piece History: Not so long ago, obtaining sugar wasn't easy. It's difficult to believe that the commodity we have in almost everything today was scarce and highly valued in the early part of the 19th century.

During those days well-to-do patrons required somewhere to store this sweet under lock and key. Why did sugar have to be locked away? It was so valuable that hired help could be tempted to pinch a bit here and there.

So local cabinetmakers rose to the occasion and the result was a specialized piece of furniture - the sugar chest. This type of chest was built throughout the South - most notably in Central Kentucky and middle Tennessee. An increased availability of sugar, along with a decline in price, reduced the need to safeguard the commodity. The demise of the distinctive design was imminent. By the late 1840s, these chests were no longer regularly built. Now being built by modern craftsmen, sugar chests are reappearing in today's antique collections.

Wood: Butternut
*

Price: $1075
Features:
Hand turned knobs, re-forged hinges and nails, optional adjustable shelves, lift top/book stand, built using past carpentry methods, and finished with linseed oil to create a rustic feel to the piece.
Dimensions:
48" h. x 15" w. x 11" d.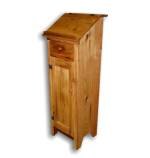 Piece Description: Built to the same design as our rustic sugar chest, this pulpit makes a fine conversation and antique piece. From square nails to hand turned knobs, old building methods make this pulpit shine. This piece would be great for telephone books and information.
Wood: Pine
*

Price: $1500
Features:
Pulls, colonial face styles, dovetailed drawers, finished with lacquer and dark stain (finish selectable) and optional distressed areas.
Dimensions:
Per customer's request
Piece Description: Built in the colonial style that use rounded corners and thick faces.
*
PLEASE NOTE: Price is subject to change due to fluctuations in the cost of wood and/or improvements in design. Also, prices will vary with the piece dimensions as some items will vary in size according to customer preferences.

SHIPPING: The cost of shipping is dependent on the customer's distance and UPS rates. We crate all our products and ensure that they will reach their destination safely.